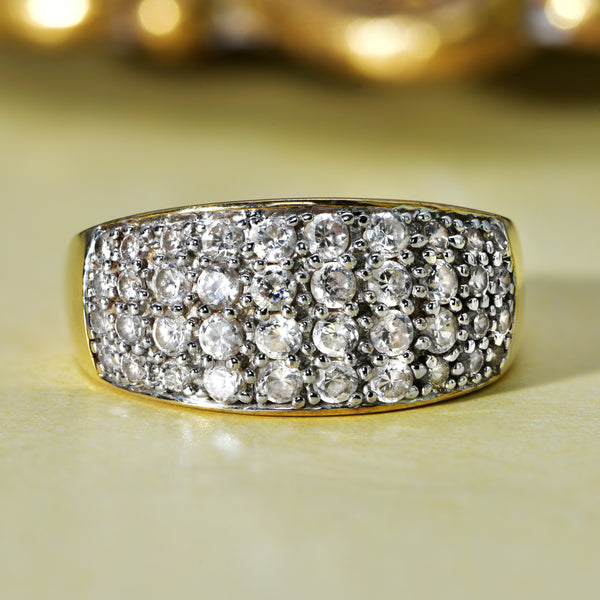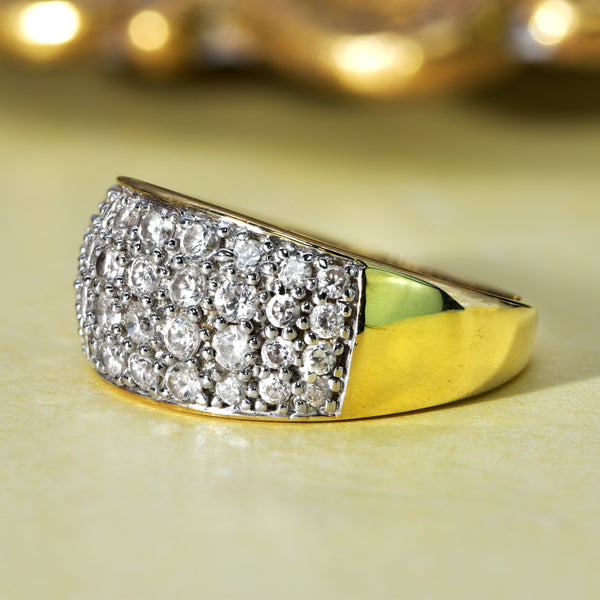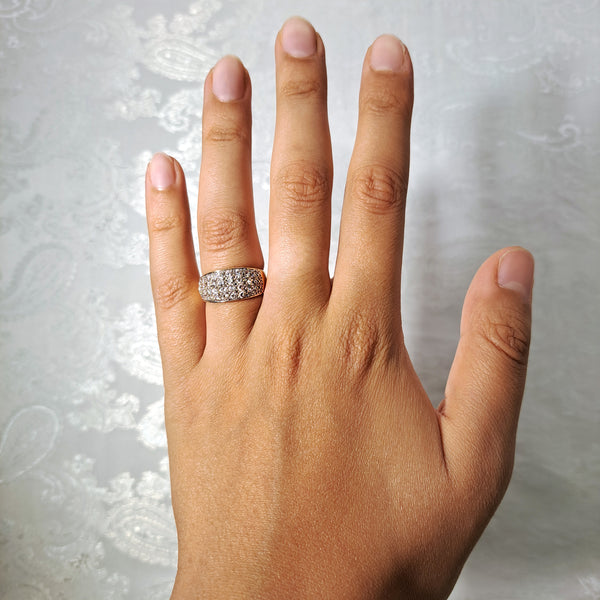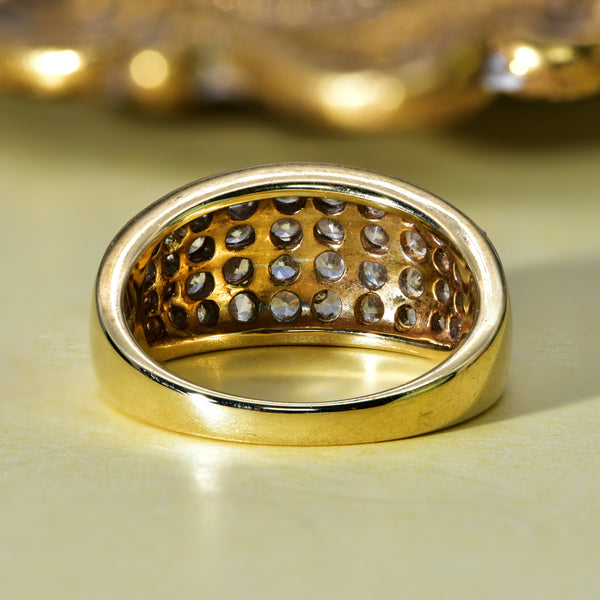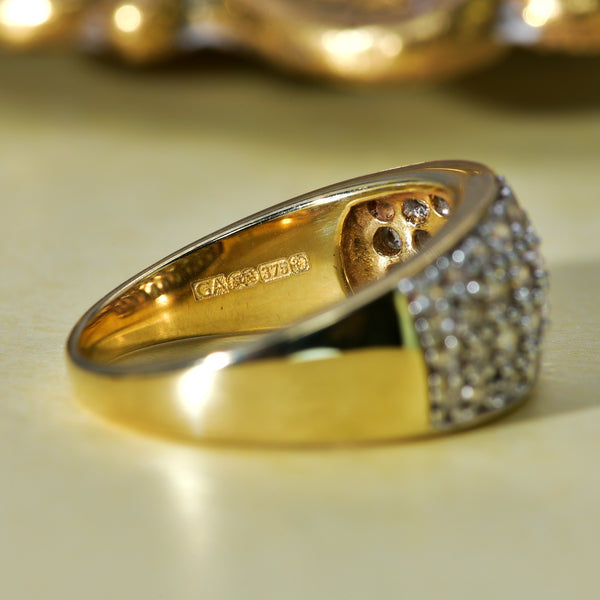 The Contemporary Clear Stone Chunky Cluster Ring
Regular price
£219.00
Sale price
£259.00
🚚 Free Delivery
👍 30 Day Satisfaction Guarantee
This ring features a wide band containing 41 bright clear stones in deep settings, framed by wide shoulders.

This contemporary is hallmarked by the Assay Office of Sheffield for 9ct gold and is in good condition with light marks commensurate with age.

Ring weight: 5.27g

Size N UK/AU, 6½ US/CA, 54 FR/RU, 17 DE
Please note, that due to the setting of this ring, it is excluded from our Free Resizing service.
Need to drop someone a hint?
Free Resizing
What if I'm not certain of the size I need?
If you're in the UK just select "I'm Not Sure" and in the box with your ring we'll include a finger measure, and a resizing form. Just fill out the form and send it and the ring to us within 14 days of receiving your order and we'll resize it. We'll also do this for you if you're in the UK and select the No Resizing option.
You can also request a free finger measure, and get your size before placing an order.
Which rings qualify?
Simply put, if you see a size picker on the ring page, then it qualifies. We offer Free Resizing on rings with a purchase price of £250 or more, except where stated in the ring's description.
How does it work?
Pick the size you need and we'll resize the ring before sending it to you. This adds a few extra days before despatch as our goldsmith has to work on your ring; with antique and vintage pieces they're one of a kind so we take time to ensure it's done well.
How long does resizing take?
Depending on our workload and the complexity of the ring's structure a resize can take between 3 and 10 working days (most commonly 5).
Will a ring resize well?
Some rings resize better than others. The options for resizing on each ring's page are specifically for that ring, based on its current size and what sizes it could safely resize to.
I don't see the size picker?
We offer Free Resizing on rings with a purchase price of £250 or more, except where stated in the ring's description. If there's no size picker then it likely doesn't qualify. If you think the ring qualifies but still don't see the picker then send us an email and we'll double-check for you.
FAQ
Can it be resized?
Simply put, if you see a size picker on the ring page, then it qualifies for Free Resizing. We offer Free Resizing on rings with a purchase price of £250 or more, except where stated in the ring's description.
What will be delivered?
Your ring will arrive inside a large ring box, inside a storage/presentation box. Alongside that we'll include an envelope containing a keepsake letter about your specific jewellery and its history for the recipient. If the description stated the ring would contain any additional paperwork then that will be included in the envelope. Rings are delivered in an unbranded box, as we know many people want their gifts to be a surprise. If you are outside the UK we are required by your country to include a customs declaration on the packaging, so we can't keep those as hush-hush.
How quickly will I receive it?
Orders with Free Resizing: If you've selected a different size from the ring's current size then our goldsmith will work to resize your ring. Depending on workload it usually takes 3-5 working days, though on complex rings or large resizes we may need a little extra time. Once we've completed your resize then delivery times are as follows:
UK: We aim to dispatch within one working day, and we use next day tracked services for our shipping. We also perform some additional fraud checks on our orders because of the high value of our antiques. As an example, most people who place an order on a Monday morning will get their items Tuesday or Wednesday, but please factor in that fraud checks and shipping during times of national uncertainty mean this cannot be guaranteed. We always provide dispatch notifications and tracking information to you as soon as we have it.
International: We require one additional day to prepare customs documents. The service estimates delivery 3-5 working days to Europe and 5-7 days to the rest of the world. 
How do you determine diamond carat?
With antique jewellery you wouldn't want to remove and re-set the diamonds just to weigh them. Diamond carat estimates are done based on assessment of the size, shape and cut using a digital calliper. Our presentations of diamond carat are a guide, but should not be considered a guarantee.
How do you determine gold carat?
Many pieces of jewellery are hallmarked to say the carat of the gold. Where this is present we present that. Where it is not we use chemical testing to determine the carat of the gold on the surface of the shank. Our presentations of gold carat are a guide, but should not be considered a guarantee.
How do you determine age?
We use three methods together to determine age. When the assay office has used hallmarking letters to specify the year of manufacture we use those as our guide, when clear and unambiguous these give an exact year we present. If there are no hallmarks or the hallmarks are hard to discern on older antiques we factor in the style of the ring and the cut of the diamonds. The way diamonds have been cut over the centuries give a good guide to how best to date a ring, and jewellery, like clothing, has a fashion coherent with its era. Sometimes we also obtain jewellery in sets, where the dating of the other pieces from that set can act as a suggestion of age for the ring. Our presentations of year or era are a guide, but should not be considered a guarantee.
Sizing
Found the ring you love but it's not your size? Don't worry we're here to help.
We offer a Free Resizing service, see the page for details. If you're unsure about a particular ring you can start a live chat on the site, or drop us an email to ask (we're very friendly!). For rings that include Free Resizing you'll find a size selector on the page. Simply pick the size you need, or select 'Not Sure'.
You can also request a free finger measure, and get your size before placing an order.
Remember with any thicker banded rings you may need a half size larger than usual.
The easiest way to make sure a ring is going to fit someone is to ask their ring size, perhaps they already know or have a ring that fits already that can be used as a guide.
If you're looking to keep your ring a surprise you can take a ring you know fits to any High Street jeweller and they'll easily tell you the size for free.
Another option is to use an app, there are many available that show UK sizes, check your App Store to see what's available options.
If you're not sure at all you can pick "Not Sure" on the resizing dropdown and we'll send a finger measure and a resizing form with the ring so you can check and send it back to us to be resized.
We're here to help and you can talk to us on live chat or drop us an email if you have any questions.
Let customers speak for us
Absolutely stunning ring
As a Christmas present to myself, I was a little sceptical buying my first vintage piece online but I am so happy I went for it. The ring is absolutely stunning, arrived earlier than expected (even with resizing) and was beautifully presented. The personalised note was also a lovely touch!
I will definitely be on the lookout and buy from Antique Jewellers again!
Diamond ring
Absolutely love the ring it is a special Birthday present from my Mum & I
Beautiful!
I was nervous about buying jewellery without seeing it in person, but the photos didn't do it justice it is absolutely gorgeous! The packaging was first class, beautiful box and personalised notes inside. Couldn't fault the service and I will definitely be buying again.
Beautiful ring, beautifully packaged.
Just received this lovely ring. The presentation case is perfect and sets off the ring beautifully. I dont know yet but when I actually propose this weekend I am sure she will adore this ring as do I. Thank you all at Antique Jewellers
Recent purchase
I ordered the ring as a present for my wife. It arrived within a week resized and sparkling. Excellent service and I wouldn't hesitate to recommend Antique Jewellery to anyone.
It's absolutely perfect and so was the process...
I have received today my Antique Early Victorian Timeless Diamond Ring from Antique Jewellers. I have been looking for an eternity ring from my husband for some time and I had come to the realisation that what I was looking for was wrong for me. So, I had pretty much given up and was considering wearing my Mum's eternity ring as my eternity ring.
I then came across Antique Jewellers on Instagram and this absolutely stunning ring. I was captivated for over a week and kept coming back to it but was hesitating, because I had found them on Instagram and I really didn't feel comfortable making such a significant purchase online.
Anyway, there has been no need to worry. The ring is perfect and I have genuinely found MY ring. The process of buying was also absolutely perfect from the images online being accurate, the zoom call to see the ring and chat with Drew, the re-sizing by Aaron and then the admin of paying and delivery. All perfect.
I recommend this company highly and now need to find another excuse for a beautiful piece of jewellery and history. Thanks Drew and everyone at Antique Jewellers.
STUNNING RING INDEED..WIFE LOVES IT...
STUNNING RING INDEED..WIFE LOVES IT...will need to contact you guys to have it sorted/Re sized to an "H".! i will call 2moro 3rd Nov.2023..thank you
Outstanding
A beautiful and rare piece - Elizabethan post ring - arrived as expected, on time and beautifully presented in a lovely wooden box. I'm delighted.
Beautiful ring
Absolutely love my ring - a gift from my husband for our 32nd wedding anniversary.
Beautifully presented and delivered quickly - great service.
5* start to finish
Like most of you reading this I was unsure on buying jewellery (as a gift..) without feeling it or holding it, but I took the plunge (I think on their cheapest ring they had :)
The images match the product and even though I didn't buy high end the packaging was beautiful with a hand written note and description as well as a beautiful presentation box too. I would buy again for sure and am pleased to support a small British business with an emphasis on detail and service
Tibetan kyanite ring
Love the ring and the service- many thanks!
An amazing Ring
This is my second purchase and once again I am absolutely thrilled with my new ring. The service is beyond anything I have endured before. The ring comes in a lovely box and the packaging is amazing. Talk about value for money this is the place to shop they have an extremely wide choice for every occasion. My birth stone is Amethyst and I have purchased a few but this is my absolute favourite an extremely lively stone with a depth of beautiful purple and sparkly diamonds down the side.
Excellent service. Very quick. Beautifully packaged. Just a joy to look through the website, choose and know that the ring will be delivered very quickly.
10 emeralds in gold
I am delighted with the emerald ring you sent me, it was just as I had hoped.
Great service bar the initial Royal Mail Delivery 'attempt'. The sapphire and diamond trio is in the post back to you as it did not fit with my wedding ring.
Absolutely speechless!
One of the most beautiful rings I've ever seen!
As soon as I saw the picture, I knew it was the right one!
I've requested the band to measure up my finger and I had the ring to get resized - everything was done quite quickly!
The customer service was amazing!
I had a few queries and my questions were answered promptly and clearly.
When I received the ring, the packaging was stunning! Included a description of the ring which I found very interesting and a cloth to clean the ring.
I would definitely recommend the website and keep looking for more interesting rings!
Thank you!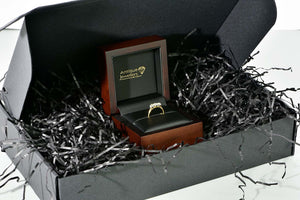 Quality Packaging
Every ring comes with a high quality presentation box, packaged carefully (and discreetly just in case we're delivering a surprise)